Welcome!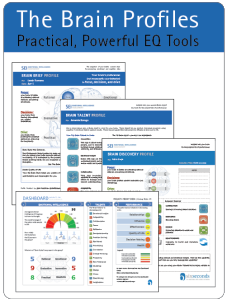 Questo tutorial ti guiderà nella scoperta dei Brain Profile — strumenti incredibilmente efficaci per portare l'intelligenza emotiva nel people management.
Questo corso online e gratuito ti farà conoscere il Brain Brief Profile, il Brain Talent Profile, il Brain Discovery Profile — e la Dashboard. Questi tool sono molto importanti perché rappresentano un modo semplice ma potente per portare l' EQ sul posto di lavoro raggiungendo nuovi insight e aumentando la collaborazione e l'engagement.
Per i manager, nell'utilizzo di questi tool, il focus è il miglioramento della performance, del processo di selezione, del teamwork e dell'orientamento al cliente.
Come puoi utilizzare l'EQ per aumentare le performance delle persone?
Inizia l'eLearning EQ Profiler:
To join the course either create a free EQ.org account or log in
Dopo aver cliccato il bottone sopra, ti comparirà la scritta "You are enrolled in this course" ("Sei iscritto a questo corso!"). A quel punto, non ti resta che fare un click sulla prima unità che trovi nel menu sulla destra!
Hai bisogno di aiuto? scrivi un' email a help@EQ.org
–
Se vuoi… acquista crediti!
Nel corso imparerai ad utilizzare i Brain Profile. Per somministrare l'assessment però avrai bisogno di crediti. La miglior opzione è quella di acquistare lo Starter Kit per 88€ scrivendo a office.it@6seconds.org. Il kit comprende 11 Brain Brief Profiles (come scoprirai nel corso, i Profile vanno da €8 a €12 cadauno con la possibilità di sconti quantità).
Nota: se sei già Certificato EQ Assessor, non hai bisogno di un account differente, già accedi ai Profile.
Una volta che hai il tuo account e sei iscritto al corso… riuscirai a cliccare sui titoli delle unità sotto riportate per iniziare: