Benvenuto/a!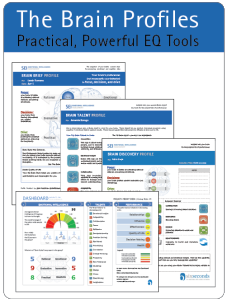 Questo percorso di Certificazione ti guiderà nella scoperta dei Brain Profile — strumenti incredibilmente efficaci per portare l'intelligenza emotiva nel people management.
Questo corso si svolge online, sia attraverso l'eLearning sia attraverso due aule virtuali che dovai organizzare con il trainer, e ti farà conoscere il Brain Brief Profile, il Brain Talent Profile, il Brain Discovery Profile — e la Dashboard.
Al termine sarà richiesto un breve Project Work per concludere il processo di Certificazione.
Questi tool sono molto importanti perché rappresentano un modo semplice ma potente per portare l' EQ sul posto di lavoro e nelle organizzazioni, raggiungendo nuovi insight e aumentando la collaborazione e l'engagement.
Per i manager, nell'utilizzo di questi tool, il focus è il miglioramento della performance, del processo di selezione, del teamwork e dell'orientamento al cliente.
Come puoi utilizzare l'EQ per aumentare le performance delle persone?
Inizia l'eLearning EQ Profiler:
Complete all these pre-requirement(s) before proceeding to the certification content
UEQ
certification
Experience why, what, and how EQ works & Six Seconds' research-based methods & tools. EQ drives effectiveness, relationships, quality of life and wellbeing. These learnable, measura...