What are "Brain Styles" and how can you use yours to best effect?
Enjoy three short movies and meet "real life" people at work and home, see how they interact… and as you come to know these fascinating characters, ask them questions, and explore their Brain Styles.
The New Boss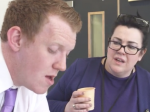 Chris Wright is about to arrive to take over the finance team. Rumor has it that big changes are coming… what will it mean? How will Chris bring the team into a more performance-orientated way of working?
The Café Plan
With an amazing vision of a work-as-community, the Café could be a breakthrough for the company… but has anyone figured out the basics, like: Who is going to actually do the work?
Talk to Me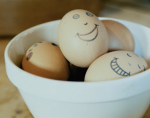 Frances Arenberg recently lost her husband, but she's coping just fine, thank you. Her daughter isn't so sure. How can these family members with such different brain styles find common ground to care for one another?
You'll learn about the strengths and challenges of different Brain Styles, and, if you've completed a Brain Brief Profile, you'll understand more about your own Brain Style and how to use your focus, decisions, and drive more fully.
To join the course either create a free EQ.org account or log in
Tips on this eLearning
This course is designed to be fun — you can "click and explore" to create your own adventure… or step through in a linear order (maybe your Brain Style will influence this decision?)
In this eLearning course, there are Modules (big sections), with with a few Units (a page about one topic). You can see the outline of the course over on the right side, and you're welcome to skip around to what interests you.
If you want to go in a linear order, start with Module 1, Unit 1.  The first time you come to a unit, at the bottom there will be a button like this:

When you're done with the unit, click that button!  Then you click the button like this to proceed: