Welcome!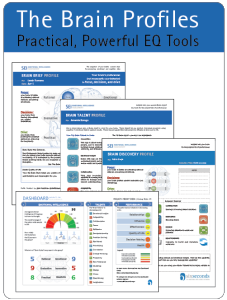 Earn your Brain Profiler Certification to effectively apply the EQ Brain profiles.
The Brain Profiles include the Brain Brief Profile, Brain Talent Profile, Brain Discovery Profile — and the Dashboard. These are remarkable tools because the provide a simple, powerful way to bring EQ into the action yielding increased insight, collaboration, and engagement.
In this training, you'll learn to implement, interpret and apply these tools. They can be utilized to improve performance, selection, team collaboration, and customer orientation — and in any training / teaching context to quickly add a focus on emotional intelligence.
Pre-Requisite: Unlocking EQ
You will need to register for Brain Profiler Certification. To register, please go to www.6seconds.org/reg
For help with registration, please email [email protected]
For technical assistance, please go to our helpdesk: http://6sec.org/help
Once you have your account and are enrolled… you will be able to access the courses below to get started:
Complete all these pre-requirement(s) before proceeding to the certification content
UEQ
certification
Experience why, what, and how EQ works & Six Seconds' research-based methods & tools. EQ drives effectiveness, relationships, quality of life and wellbeing. These learnable, measura...