When and how EQAC certified Assessors might use the SEI LTC
EQAC certification is a pre-requisite for debriefing the SEI LTC, as it is a Level B Psychometric assessment.
There are many occasions when the SEI LTC will be useful:
Prior to any change initiative to assess the Change Readiness of individuals
Prior to any change initiative to help people to better understand change
Grow leadership capability to lead well through change
Grow the qualities and leadership behaviors seen in AGILE leadership
Leadership Development Programs
Organizational culture initiatives – to build trust and inspired leadership at all levels
Value add to any Coaching engagement
Pre and post measure of success (individual coaching and extended leadership programs) – ROI
Significant Development opportunities lie within this report – debriefing it may occur within one (1) session or extend over a few sessions (No Way is The Way) to give the client the opportunity to do some of the Reflections
Watch   
Alison Lalieu interviewing Tommaso Procicchiani, Six Seconds about Next Steps.
Alison would like to thank Tom for his unwavering support in the development of this report. Many of you have questions abound the tool, and Next Steps.
1.How to access this tool?
2.How many questions there are now in the SEI LTC survey?
3.Are the questions any different from the SEI Leadership report?
4.How to apply for your ACE Units?
5.Who will be doing the SEI LTC debriefs?
Download
Steps to apply for your ACE units
Unit summary
Three (3) questions for you to reflect on:
1.In what situations can you see the SEI LTC as being a valuable tool to use?
2.How are you intending to integrate it into your EQ practice?
3.How equipped do you now feel to navigate change yourself, as well as introduce the concept of  'Leading Through Change' to others after this eLearning experience?
Interested in understanding integration through a SEI LTC Debrief firsthand?
If you haven't already, remember 1,2,3 PASTA! Simply click here & follow the prompts to book your 1:1 virtual Debrief!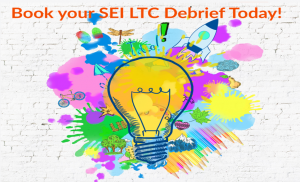 You're now finished all the learning modules! Congratulations! Head to the Wrap Up to complete your eLearning journey.
Click "Mark Unit Completed" below & click NEXT MODULE to complete.