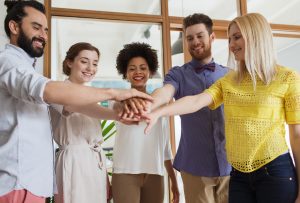 For most of us, change is hard. It can feel stressful, overwhelming and draining. To keep going requires perseverance and grit, and a mindset where challenges can be reframed as opportunities.
As we debrief the SEI LTC, we have the opportunity to raise awareness around the challenges that may arise during change, and explore ways to stay motivated and energized to keep ourselves and others moving forward.
Leading well through change requires that we tap into Intrinsic Motivation, both in ourselves and others.
When you are intrinsically motivated, you feel energized and driven by your personal values and commitments rather than by external forces.
How as a leader can you intrinsically motivate people through change?  
Alison interviewed a panel of EQ Coaches with experience in change, and they came up with a Checklist of 'C's as to how a leader can  Intrinsically Motivate others.
Check in (self-awareness) with yourself about how you are feeling about delivering a change initiative, and be constantly thinking about how people are feeling on the ground
Show that you Care  – trust in you as a leader is a powerful motivator
Connect with each person individually; work with your people to develop their own strategy to navigate change. Leaders who adopt a Coaching approach are able to support their people to better understand change, and grow their own EQ to become more 'Change Ready'
Give people as much Choice as you can. In a changing environment, people automatically think that they have no choice. We actually do all have a choice about how to respond to change
Communicate as widely as possible to provide 'certainty' – share as much information as you can, as often as you can (once is not enough)! When people don't know what is happening, they tend to fill in the gaps with their own stories – so take every opportunity to share news (good or bad)! People can deal with bad news – what sends them into a fear spiral is no news at all
Community – people can feel lonely during times of change, which may manifest as disengagement. Find every opportunity to bring people together, have fun and build relationships
Connect  people with their own purpose and that of the organization. Keep exciting them about the shared vision
Choose – to live into your values at every opportunity
Curiosity – seek every opportunity to be open to other perspectives, exploring ideas outside of your own thinking, solutions, beliefs and ideas. Try new things and stretch into exploring outside of your comfort zone
Download The 9 C's of Change on how to intrinsically motivate others through change
Highlighting the Coaching elements within the SEI LTC
This report was designed to provide people not only with the opportunity to explore their EQ strengths and challenges, but also to ignite their interest in growing a Coaching approach to their own leadership.
Curiosity is a cornerstone of the AGILE Leadership framework – the ability to grow conversational awareness, and ask many more insightful questions than provide solutions.
Targeted Coaching questions are scattered throughout the SEI LTC to:
spark the interest of the client
provide the debriefer with questions to ask
a chance for the client to reflect further after the debrief
provide a framework for the client to use for any change situation that arises going forward
Unit summary
Three (3) questions for you to reflect on:
1.How does Intrinsic Motivation fuel positive change?
2.How can you use the SEI LTC to grow a leader's ability to develop a Coaching approach in their leadership?
3.What other EQ competencies (apart from Intrinsic Motivation) do you see fueling positive change (spinning the Change MAP in a clockwise direction)?
Great work – unit 2 of 4 is complete!
Click "Mark Unit Completed" below & click NEXT UNIT to continue.