Welcome!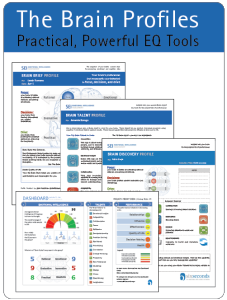 This tutorial equips you to use the Brain Profiles — powerful tools to put emotional intelligence into people-management.
This free online course will orient you to the Brain Brief Profile, Brain Talent Profile, Brain Discovery Profile — and the Dashboard. These are remarkable tools because the provide a simple, powerful way to bring EQ into the workplace yielding increased insight, collaboration, and engagement.
The focus is for managers using the tools to improve performance, selection, team collaboration, and customer orientation.
How do you use EQ to improve people performance?
Get started with the Profiler eLearning:
To join the course either create a free EQ.org account or log in
Need help? just email help@EQ.org
–
Optionally… Buy Credits
In the course, you'll learn how to use the Brain Profiles.  To actually administer the assessment, you need credits.  The best option is to purchase the Starter Kit for just $88 with enough credits for 11 Brain Brief Profiles (as you'll learn in the course, the Profiles range from $8-$12 ea and there is a quantity discount).

Note: If you already are SEI Certified, you don't need a different account, you already have access to the Profiles.
Once you have your account and are enrolled… you will be able to click on the titles of the units in the outline below to get started:
| | |
| --- | --- |
| Module 1 | Brain Brief |
| Unit 1 | Brain Style Intro |
| Unit 2 | Brain Brief Profile |
| Unit 3 | BBP Applications |
| Module 2 | Brain Talent |
| Unit 1 | Talents for the Future |
| Unit 2 | The Brain Talent Profile |
| Unit 3 | BTP Applications |
| Module 3 | Discovery & Dashboard |
| Unit 1 | The Brain Discovery Profile |
| Unit 2 | The Dashboard |
| Unit 3 | Next Steps |